Thanks for visiting the thrilling world of Britain's elite off-road motorcyclists, as they prepare for the ultimate showdown on the global stage!
You join us as we ready ourselves for the heart-pounding action of the International Six Days Enduro (ISDE). This iconic event, which traces its roots back to Carlisle, England, where it was first held in 1913, is the oldest and most prestigious of all off-road competitions. Attracting only the fittest, most talented, dedicated and committed riders, ISDE is not just a race; it's an epic saga that has endured for more than a century.
Imagine the spectacle of 500 riders, hailing from more than 30 nations, converging on what's often dubbed the "Olympics of Motorcycling". The ISDE pushes the limits of both rider and machine. Participants tackle terrains that span from sandy beaches to treacherous rocky crevices, from dense woodland paths to adrenaline-fuelling motocross tracks.
History was made when Team GB triumphed at the ISDE in Le Puy-En-Velay, France in 2022. Our riders have made many podium appearances over the years, but the Men's Trophy Team clinched the overall victory after an incredible 69-year hiatus, while the Women's Trophy Team secured their first-ever victory since the women's team category was introduced in 2007. Our Junior Team also performed exceptionally well, soaring to fourth place.
The ISDE in San Juan, Argentina will likely go down in history as one of the hardest races ever due to the searing temperatures. Battling through the heat, dust and stones, Team GB's Men's Trophy Team achieved another podium finish in November 2023 in third place!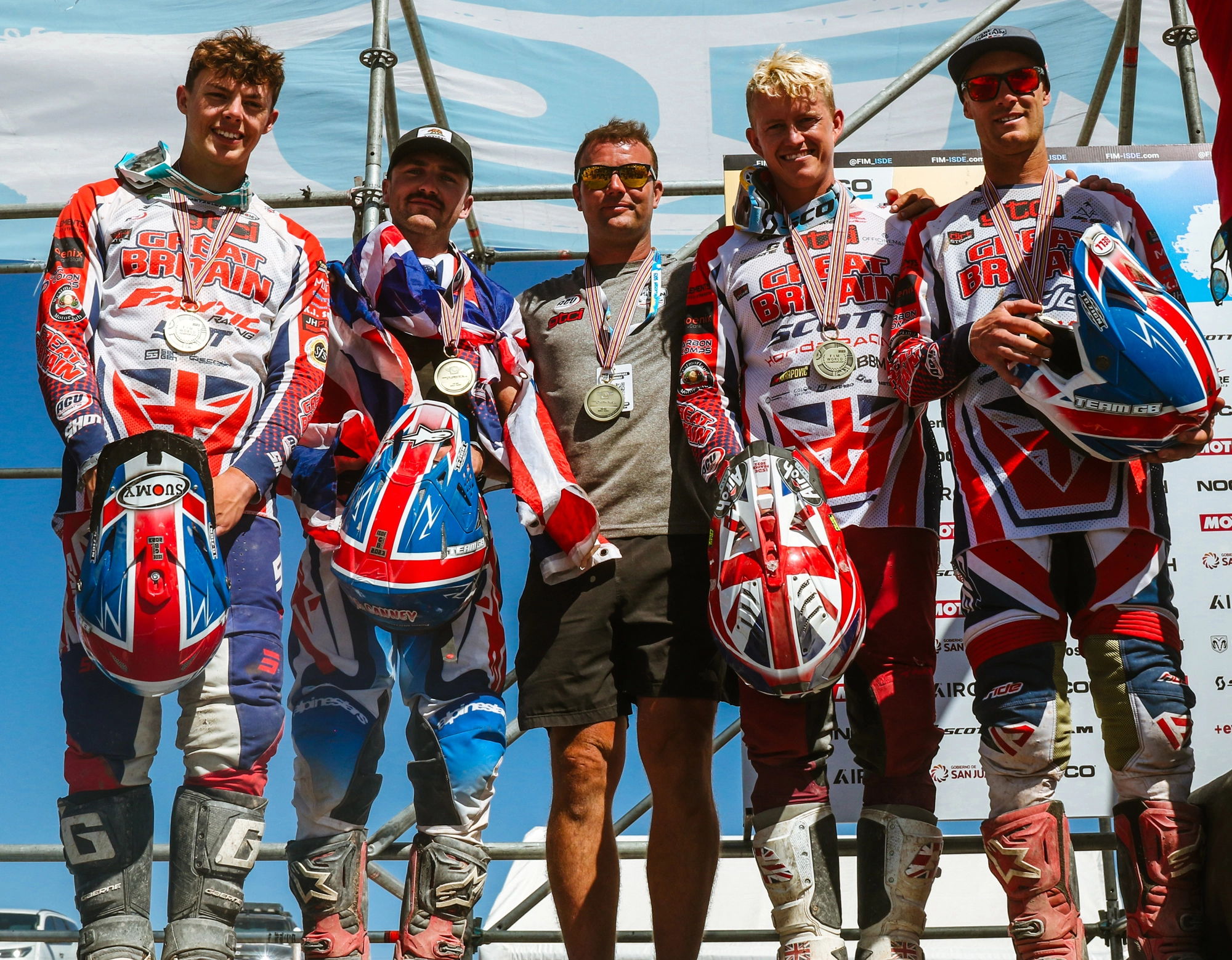 Photo: Team GB Men's Trophy Team member Jed Etchells flying through one of the tests at the 96th FIM ISDE in Le Puy en Velay, France 2022
Credit: © Pole Position Communication / Dario Agrati